Steamroller takes to the streets to make art prints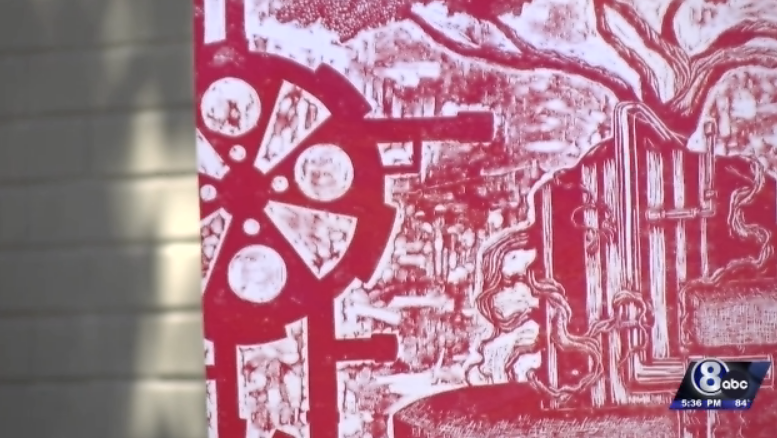 LINCOLN, Neb. (KLKN) – As history continues to move forward, so does the understanding of what art is.
With empty streets and a capable steamroller driver, who are local artists on site, what was once construction work is now a work of art.
This type of art is called steamroller printing, which uses a larger scale of full-sized woodblock prints in which artists cut out a specific design and use ink and a roller to transfer it onto various materials.
Over the summer, Lincoln residents had the chance to visit nine different locations in town that featured woodcuts.
Many who were lucky enough to see the finished works now have the ability to make their own prints using the available paper and t-shirt presets.
The main attraction at the Lux Center for Arts Summer Fest was a demonstration of how these prints can be made on a larger scale than an ordinary scroll.
Executive Director Joe Shaw said these annual events allow visitors to come and interact with local artists while having the chance to create their own unique work.
"Many of the nine Nebraska mural artists, who are still in place in nine different locations around Lincoln [are] using the woodcuts they made for these prints here today," Shaw said.
He said most of the crowd, which had gathered on the Baldwin Avenue side of the building, were former Center clients who had come to show their support.
"They have kids who have taken classes at Lux, just various community members who love art, we have a wide variety of students from all of Lincoln's zip codes," Shaw said.
These events allowed art enthusiasts to meet personalities from the community.
Local artists Karen Kunc, Hannah Demma and Toan Vuong, among others, could be seen at the booth preparing ink and cutouts, but also spent their time interacting with every visitor who stopped by.
Demma, a print artist, took a moment to walk away from the booth to drive the steamroller while being cheered on by other artists and art lovers.
"It's only a way to enlarge [print art] and show people how it's done," Shaw said.
With each freshly rolled print, one of the participating artists held the artwork for all to see, giving community members a moment in the spotlight.