Gan's food bank is holding a raffle of two art prints as a fundraiser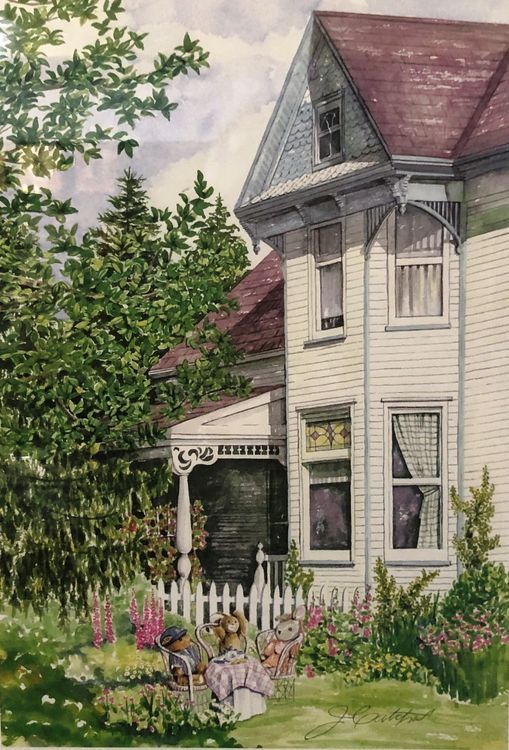 Content of the article
Local artist Jeannie Catchpole and Gananoque's O'Connor Gallery have partnered to donate two fine art prints to the Gananoque and Area Food Bank for fundraising.
Content of the article
"Jeannie Catchpole has had a long career that began as a commercial artist and created very popular editions of prints," said the gallery's Dennis O'Connor. "The two draws offered for the food bank are two of its most popular. The first is a Christmas theme called Holiday Home, and the second is called Garden Party, with stuffed animals having tea.
The prints are high quality, valued at $300 each with an added value of $350 each for archival framing.
The food bank sells raffle tickets for $5 or three for $10.
"Funds raised will be used to purchase ingredients for holiday baskets," said Barb Jenkins of the Gananoque and Area Food Bank. "We are going to distribute 120 baskets this year. With grocery prices rising, we appreciate the donations we can generate through the raffle and hope to raise between $2,000 and $3,000.
Catchpole now works in conjunction with her husband Steve Behal on a team called BECA.
"Together they create amazing paintings and they also work individually," O'Connor said. "Their quest is to create art based on emotion, color, balance and passion, from realism to an exploration of contemporary aesthetics. Catchpole is delighted to donate these prints to benefit the food bank, and the O'Connor Gallery was also happy to frame the pieces archivally.
The prints are currently on display at the Panache Bakery and Cafe, located at 162 King St., East.
Raffle tickets can be purchased there during its opening hours. They are also available by calling Jenkins at 613-583-2077.
"Tickets are on sale now through November 30 for the December 1 draw," Jenkins said. "That leaves plenty of time to use either as a gift. 'Holiday Home' would look great anywhere in your home, while 'Garden Party' would be adorable in a child's bedroom.
The Gananoque Area Food Bank is also looking for other local retailers to help with ticket sales between Nov. 15-30. If you are interested, please contact Jenkins.