Ann Arbor Art Center featuring art prints from 'Stewart & Stewart'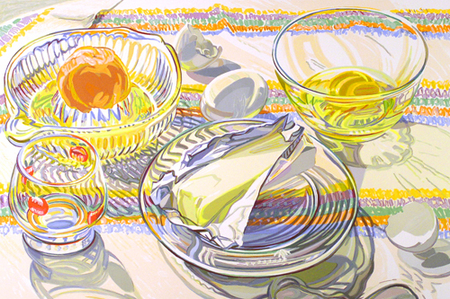 "Impressions: Selections from Stewart & Stewart" at the Ann Arbor Art Center is a welcome rarity among art exhibits. In a field dominated by talent, schools and specific mediums, "Impressions" goes above and beyond in its example of this regional engraver's house style.
"Since 1980", as the fine arts printing gallery statement says, "Norman Stewart, artist/master printer, and his partner, Susan Stewart, graphic designer, have invited artists to create small editions characters in their Bloomfield Hills studio.
"Stewart & Stewart prints are renowned for their painterly approach to screen printing," the statement continues, through their "deft use of vibrant, transparent inks; and full printed documentation. Stewart & Stewart involve the artist in every creative step of the printing process, transforming the image as it develops. The resulting original editions retain the unique style and pictorial "hand" of each artist. »
The proof is certainly on the digital signage at A2AC. "Impressions" acutely shows us a unified artistic strategy that merges notions of school and talent through technical expertise. These one-of-a-kind works of art still share a signature look – and therefore a Maison style – translating the initial impulse of each work through careful interpretation.
"Impressions" artists with ties to Ann Arbor include Washtenaw Community College Professor Emeritus C. Dennis Guastella; Paul Stewart, professor emeritus at the University of Michigan; and the late Ann Mikolowski. Other artists exhibited are Jack Beal, Richard Bosman, Nancy Campbell, Susan Crile, Martha Diamond, Connor Everts, Janet Fish, Sondra Freckelton, John Glick, Jane E. Goldman, Keiko Hara, John Himmelfarb, Sue Hirtzel, Sidney Hurwitz, Yvonne Jacquette, Hugh Kepets, Catherine Kernan, Clinton Kuopus, Daniel Lang, Jim Nawara, Lucille Procter Nawara, Don Nice, Mel Rosas, Jonathan Santlofer, Phyllis Seltzer, Hunt Slonem, Steven Sorman, Richard Treaster and the print master, Norm Stewart himself.
Even the most cursory reading of the list above gives us a distinct "impression" of the creative talent working with and through Stewart & Stewart. These are top artists working in a range of media – enough to challenge a museum, let alone a single fine art print shop. Stewart & Stewart takes up the challenge with aplomb.
Much of the secrecy stems from the Maison's emphasis on screen printing while also mastering other forms of engraving. Intaglio, hand painted pigment print, mixed media on paper, hand colored monotype, collage monotype and Ukiyo-E print are some of the other printing techniques employed by Stewart & Stewart, but screen printing is what they produce most often.
The choice is telling, as screen printing is one of the most contemporary and demanding printing media. A stencil printing technique that uses a woven mesh to support an ink-blocking stencil, screen printing transfers ink and/or other printable materials through a mesh onto a work surface.
Executing the job in no less than 20 steps (there is a detailed map in the exhibit that guides us through the laborious process), Stewart & Stewart uses a sequence that must be repeated for each color used in the composition.
And this too is one of the elements of the success of Stewart & Stewart. To work with a talent of this caliber, the engravers (mainly Norm Stewart) must work at an equally high standard.
Take, for example, C. Dennis Guastella's superlative "Patching" at the Art Center.
Guastella's signature art is a high relief abstract whose steep work surfaces are actually a mixed media collage with a range from thickened acrylic to edged polystyrene. Remarkably, "Patching", a 1982 serigraph, reflects this artist's interest in the elaboration of such cross compositions. The tactility stems from its geometry inspired through the interpretation of the engraver's screen printing.
Yet "Patching" is exactly what its title suggests: a series of geometric patterns that criss-cross in cross diagonals across the working surface of the print. Using scale to graduate the relief of his work, Guastella's Stewart & Stewart serigraph is an accurately rendered masterpiece whose colorful foreground palette stands out sharply against a more intricate hatched background.
In contrast, 1994's "AM" by Janet Fish reflects this famous New York realist painter's interest in the translucency of light in still lifes. In this case, "AM" exhibits both Fish's fascination with diaphanous shadow in the context of a breakfast set, as well as the tactile dimensionality of solid objects.
Such a work of art would also push an engraver to their limits due to the artist's subtle gradations of transparency. Row transfer is a task; transferring the line refracted by the subtle scattering of the glass only increases the difficulty. And from the looks of it, it looks like Norm Stewart and his engraving team enjoyed the technical issues involved until he spectacularly reproduced the light itself.
The same is true in this remarkably nuanced technical marvel of a print exhibit. Because appreciating this work is one thing, but appreciating the technical mastery of the engravers is another. Stewart & Stewart's craftsmanship is a striking skill to behold. And that makes their "Impressions" an exploration of House style at its finest.
"Impressions: Selections from Stewart & Stewart" will run through Jan. 6 at the Ann Arbor Art Center, 117 W. Liberty St. Gallery hours are 11 a.m. to 6 p.m. Monday through Saturday; and 12 p.m. to 5 p.m. on Sunday. For more information, call (734) 994-8004.