21 best wall art prints and posters to transform bland walls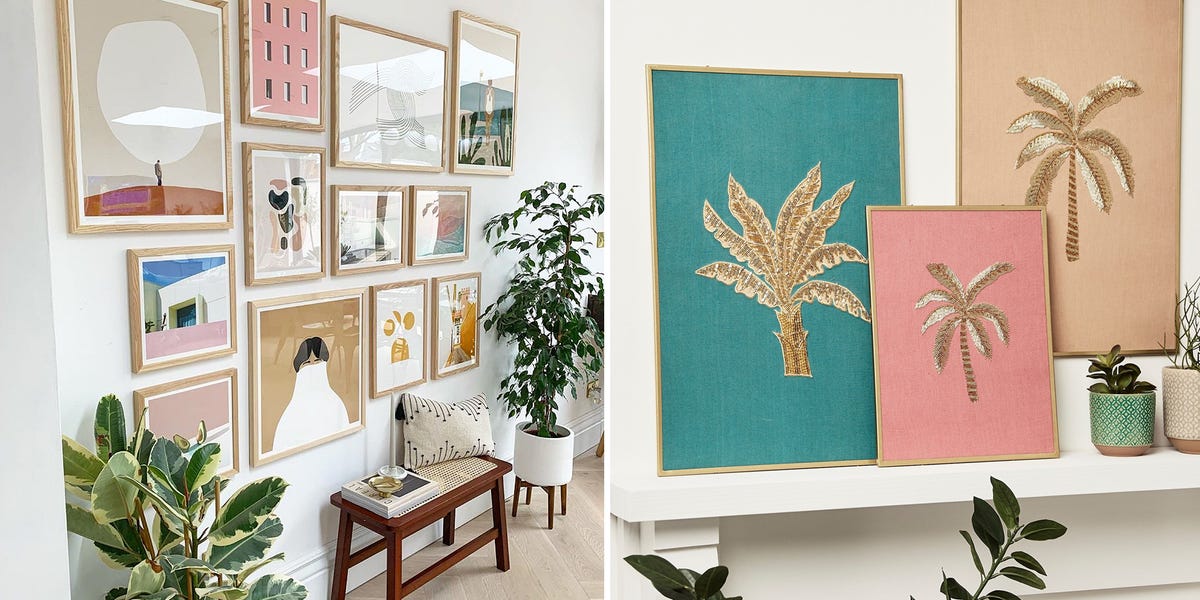 Left: Fy!, Right: Oliver Bonas
Wall prints are a quick and affordable way to transform bland walls, fill empty shelves, or brighten up awkward alcoves or corners. Whether you're a minimalist at heart and prefer to flaunt neutral line art or a bold lover of color who mixes an eclectic array of styles and genres, there's really no wrong way to transform your house with art. There are, however, a few expert tips and tricks to help you create a space you'll be proud of.
Stylized wall prints
There are many ways to style wall prints. Molly Pusey, Vice President of Sourcing at Fy!, explains, "Be eclectic: mix and match prints that showcase different mediums, such as illustrations, collages and photographs. Choosing prints that share the same A color palette woven through the design will ensure a cohesive look despite your mix of styles.Choose a theme – for example, stick to the same color for a uniform look, go black and white for a minimalist feel, or mix and match photos treasured vacation family prints with seascapes or architectural prints of your favorite destination to create a memory wall.
Before buying wall prints, avoid this common mistake…
It's important to consider the function of your room before committing to your artwork – a lounging space like a bedroom may not be the best place for bright colors and busy walls. "Watercolors, Scandi designs and botanical prints will promote relaxation, while typography, contemporary and geometric styles can bring vitality to an entertainment space and provide a conversation starter," says Molly.
And when it comes to layout, Molly suggests keeping the size of your space in mind and choosing a selection of small, medium and large framed prints: "Use old wrapping paper or newspaper to cut out the size of your prints and stick them to your walls, or lay your chosen prints on the floor first, playing around with the layout until you've found the aesthetic you're after.
Advertising – Continue Reading Below
1
wall art prints
Impossible Island Poster
Hanna Peterson
made.com
£79.00
The Impossible Island poster uses giclee, a fine art printing technique that achieves richness and depth of color. This wall art print is bold enough to stay unframed and hung with a gold poster clip like this one from Desenio.
2
wall art prints
Buongiorno print
Ciao Chiara
paper.com
£48.00
This cheerful Buongiorno print is a modern take on Italian nostalgia. From artist Chiara Perano, who creates minimal illustrations in dark inks and harmonious gouache tones with a playful touch, Buongiorno is framed and ready to take center stage on your wall.
3
wall art prints
Set of 2 framed abstract prints
Beautiful house
home base
£45.00
This set of framed abstract prints from our House Beautiful collection at Homebase creates the perfect color palette for your wall. Choose soft peaches, ochres, rusty reds and whites from your surrounding household items to create a harmonious collection.
4
wall art prints
Picasso 'Dove of Peace' Framed Art Print
john lewis
johnlewis.com
£195.00
Would a gallery wall be complete without a timeless reproduction of the Old Masters? This is a framed wall print of Picasso's 1949 'Dove of Peace' lithograph, originally designed for the International Peace Congress.
5
wall art prints
Tropical Pearl Pink Fabric Wall Art
Transport your living space to tropical paradise with this clever textured fabric art from Oliver Bonas. Metallic gold beaded palms sit on a colorful fabric background and arrive in a matching gold frame.
6
wall art prints
Magical Love Birds Wall Art
Magical Hotel
anthropology.com
$398.00
Hotel Magique's cult status is well deserved, with a range of timeless prints, cards and table linens full of dreamy vintage references and a touch of French romance. This ink love bird wall art print arrives framed and ready for your gallery wall. So Chic.
seven
wall art prints
The Curves Blue Poster
A trendy Matisse-inspired poster by Desenio mixing abstract shapes with classic gallery-style text. Peach tones and a soft, chalky blue background add warmth to this wall art, making it the perfect option for a minimalist looking for a pop of color.
8
wall art prints
"Solitude" framed prints, set of 2
Dominique James
johnlewis.com
£150.00
This pair of figurative prints by Dominic James is a minimalist's dream. Against a soft background and framed in black molding, hang them in pairs for the greatest impact.
9
wall art prints
Blue Minimalist Painting
Orara Studio
iamfy.co
US$16.00
This abstract wall art print by Orara Studio at Fy! uses giclée printing to achieve its rich, inky blue tones. Bold enough to hang unframed, this would make the perfect centerpiece for your gallery wall – use it as an anchor in the center of your wall and build outwards with more delicate pieces.
ten
wall art prints
Fruit salad with pilgrim prints
Stoff Studios
wolfandbadger.com
£35.00
Stoff Studios' Pilgrim print is hand screen printed using water-based pigments and paper created from upcycled disposable coffee cups. With bright orange ink and a pale pink base, these surprising colors work together beautifully.
11
wall art prints
Oops Framed Wall Art
Bold typography, witty graphic design and a brilliant sky blue colourway make Oliver Bonas' Whoops print a playful statement piece. Extra large (A1) in size, it arrives conveniently framed and ready to add to your wall.
12
wall art prints
Agapanthus Art Print by Liv Lee
Playful shapes and cheerful colors make this print by Sydney-based designer Liv Lee a happy addition to your wall. Liv is inspired by the labyrinthine garden of her childhood and the Australian summer lifestyle. Sun in a print.
13
wall art prints
La Luna print
Eleanor Stuart
wolfandbadger.com
£20.00
This is a bold graphic print of 'La Luna' by British illustrator Eleanor Stuart. Inspired by the beautiful designs of a popular old Mexican game called "Loteria", the charming vintage elements make this print a timeless addition to your wall.
14
wall art prints
Art Aesthetic Poster
With its creamy collage of abstract shapes paired with bold text, this Aesthetics of Art print reminds us of vintage art exhibition posters. A perfectly neutral print, it's the ideal choice if your wall is occupied by color.
15
wall art prints
Set of 2 stair prints
Beautiful house
home base
£45.00
Contemporary photography is an incredibly versatile addition to your gallery wall and can sit comfortably in minimal settings or next to bolder, colorful prints. This set of two black and white geometric prints has a thin white outline and black painted wooden frames.
16
wall art prints
Accidental artwork
Parents
theposterclub.com
US$99.00
Composed and photographed by Kinfolk photographer Cecilie Jegsen, the striking simplicity of Accidental Artwork is quintessential Kinfolk. Though simple in execution, it's striking in detail – its soft pink hues would work wonders in a neutral environment.
17
wall art prints
Melancholy poster, 40 x 50 cm
Avenue LouLou
made.com
£59.00
Melancholic by Liv Ann van der Laan, a visual artist living in the Netherlands, beautifully showcases the sketchy, abstract style she is known for. A bold black frame would showcase the almost iridescent gold used to create the striking one-line figure.
18
wall art prints
Larchmont Village Two Poster
This is a striking piece from Postery, featuring abstract palm trees in an inky black and soft pastel purple. Although bold in color, the simplicity of the design makes it perfect for a more minimalist home. Make this wall art print the focal point of a gallery wall and pair it with other neutral designs.
19
wall art prints
Pink interstellar print
This stunning interstellar rose wall art print is by Anne Nowak, a Copenhagen-based artist. With softly gradated pinks, inspired by the horizon at dusk, it's the kind of print we'd proudly display as the showpiece of our gallery wall.
20
wall art prints
Skylines Art Print
Elizabeth Olwen
iamfy.co
US$16.00
This cheerful illustration by Elizabeth Olwen is inspired by the natural world, from her native Ontario to her adopted Lisbon. A white or light wood frame would give a charming nautical feel – perfect for pattern lovers and those experimenting with subtle pops of color.
21
wall art prints
Such is life Poster
Mathilde Cabanes
smallable.com
$26.00
This cheerful poster by French illustrator Mathilde Cabanas translates to "c'est la vie". Characteristic of Mathilde's work, it is made with recycled paper, a touch of color and a dose of playful humour.
This content is created and maintained by a third party, and uploaded to this page to help users provide their email addresses. You may be able to find more information about this and similar content on piano.io
Advertising – Continue Reading Below