A steamroller will make giant art prints in Lincoln Square on Saturday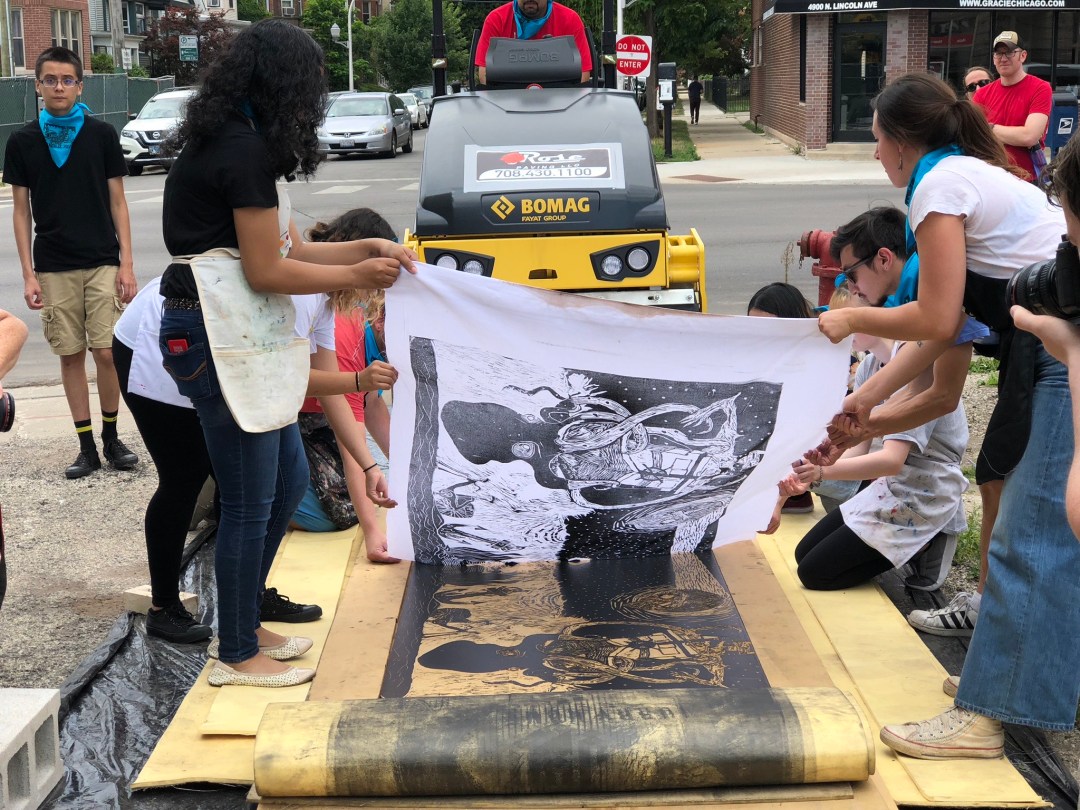 LINCOLN SQUARE — The Chicago Printmakers Collaborative invites neighbors to the return of its popular Steamroller Print Festival this weekend.
The free Monster Truck Mash event runs from 11 a.m. to 5 p.m. Saturday in the back alley of the collaboration, 4912 N. Western Ave.
Organized by the collaboration and Hoofprint Studio, the event will feature live music from The Parsnip Factory and The Tuesday Night Old Time Jammers. The food and drink for sale will come from Baker Miller and the Tropical Smoothie Cafe.
Printmaking typically uses much smaller copper plates, lithographic limestones and carved wooden blocks to create art prints and posters, said collaboration director Deborah Maris Lader.
But at Saturday's event, a large steamroller typically used for paving sidewalks or streets will be used to roll over wooden blocks as large as 24 square feet to make impressions, Maris Lader said.
"People come from far and wide to see this because it's quite unusual to see something on such a gigantic scale. It almost becomes a performance," Maris Lader said.
The event will also feature collaborative T-shirt screen printing artists using more traditional methods, and a space for children to do 3D printing using vegetables, said Maris Lader.
"We carve little carrots and potatoes and things to make prints that kids love," Maris Lader said.
The collaboration first used a steamroller to do the big draws in 2016, then held a second event in 2018, Maris Lader said.
Another steamroller event was planned for 2020, but the pandemic postponed its return to this month, Maris Lader said.
The latest steamroller event will run in tandem with the Lincoln Square Artisan & Makers Market which will take place across the street at the Ainslie Arts Plaza, allowing people to visit both, said Maris Lader .
"The idea of ​​having a sort of gateway to the northern section of Lincoln Avenue with the Ainsley Arts Plaza was really good for us," said Maris Lader.
For more information on the event, visit the collective's website.
Listen to "It's Alright: A Block Club Chicago Podcast":